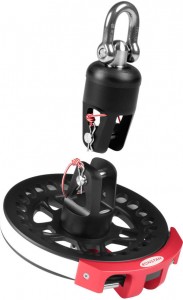 Top Down Furlers
The latest buzz in the furler world is the top down furler, a great way to handle the spinnaker short-handed. Also called a "loose" luffed furler, it can be added to an existing spinnaker to roll up for hoisting, dousing, and controlled jibing.
Top down furlers have found their way onto everything from large mega yachts to shorthanded offshore racing boats. It is a great solution for handling a large headsail, and typically easier than a sock.
A top down furler drives a torsion rope that rotates and gathers the sail from the top, and it continues to wrap downward. It leaves the sailor with a nice, tight, wrapped sail that is easy to handle.
There are many variations of torsion ropes and furling lines, as well as full units, and prices vary. Let us help you pick the right equipment, or explore Top Down Furlers at the Rigworks Online Store »
Here is a comparison sheet provided by Ronstan.