Lifelines, etc.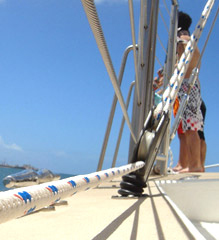 The Lifelines on your boat can withstand surprisingly substantial forces, IF they are spec'd correctly, installed correctly, and inspected on a regular basis. The interconnected nature of lifeline wire and stanchions, in which single lengths of wire run nearly the full length of the boat, mean that a failure of any component at any location can jeopardize the entire system, and you or your crew end up in the drink.
In reality, lifelines are rarely thought of until they are REALLY needed, when a misdirected boat comes alongside at an alarming angle, or crew goes for a tumble. This is not the time to be wondering "when was the last time I had those lines inspected?"
Firsthand reports on lifeline failure reveals a couple of things: US and European-produced wire rope rarely breaks, and high-end terminals and fittings offer visual cues to their condition before the situation should become critical. Failure is more often caused by missing, damaged, or loose equipment, than by brute force tearing things apart. In order to maintain a proper system that allows for inspection, you should consider:
eliminating gates where possible
avoiding imported, plastic-coated 7X7 wire
replacing what you have with conventional, uncoated 1X19 wire
when replacing gate or terminal hardware, don't skimp
on many boats, the pulpit and pushpit are subject to the highest loads – check the welds!
open or divided bow pulpits (allowing more space for large headsails) are weaker by design
reinforcement of the deck in those areas where new stanchions will be located
removing or isolating additional loads on your stern pushpit from panels, davits, towers, etc.
In addition, you should check out the World Sailing Offshore Special Regulations concerning lifelines. And let us take a look at your setup to see if it meets your needs.